Now offering home delivery!
Check out three convenient ways to bring Creswick Farms products home to your table. Delivery Options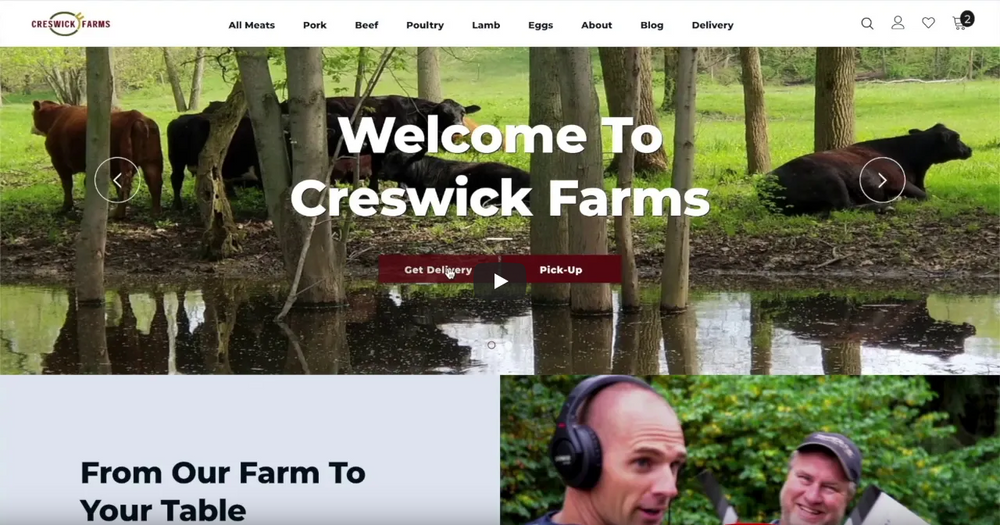 From our Farm to Your Table
Creswick Farms is your local source for Simple, True, & Essential Meats. We use the finest & cleanest herbs & spices available to delight your senses. Especially your tastebuds.

I have been ordering meat from Creswick Farms for several years now. It is the best! If I was going to continue to eat meat, it was very important to me to find a source where the animals are raised humanely and sustainably. That is...

We love our trips to Creswick! The best meat and eggs in W. Michigan plus we get to see the pretty horsies and other cute inhabitants. ☺️ Everyone is super nice, so it's just an all around good stop!

Outstanding quality eggs and meats. I regularly drive out to the farm to purchase eggs (the best) and other favorites like pulled pork, roasts, chickens, and bacon. I also buy beef marrow bones that make an excellent bone broth. I feel...

I was looking for local and minimally processed meats. Creswick Farms checked all the boxes! Once you try their meats you will definitely see and taste the difference. The best part is I can order online monthly and pick up my order close...

We LOVE everything we have ever bought from Creswick Farms! If you try their products you won't go back to store bought. The flavor is so ridiculously better! We love their eggs, chicken and all the amazing varieties of bacon and brats. Give them a try I promise to won't regret it ♥️

We buy all of our meat from Creswick Farms. Everything from ground beef and chicken breast to brats and eggs. You can taste the quality. The eggs are huge, and taste better than their store bought relatives. The ground beef smells like steak when you are cooking it, not like a wet dog, plus no dye to make it look like meat...

I spent time researching local farms to make sure I was getting quality, healthy, ethically produced meat products. I am sick of all the recalls and horror stories about factory farming etc so I wanted to make sure my family is not...

Love this place. Some unusual specialty products and consistently high quality meats. My favorite go-to is the boneless, skinless chicken thighs, perfect for lots of quick meals for only a few people and the tastiest chicken I've ever had. And all of the people I've dealt with here are friendly and willing to go the extra mile.

We have been purchasing farm products from Creswick Farms for over two years and highly recommend that you try them! For quality and taste, they are among the best we have consumed, and we can verify that the animals from which they come...
Food from our farm can be picked up at these locations